Each year since 2013, the Tinsley Scholarship Board has honored members of our public school community who make special contributions to youth, in positions that aren't usually recognized for doing so. We give the award to the person or people who have gone over and above their official job description in making a difference in our young people's lives, and who demonstrate some of Grace Tinsley's characteristics.
2019 Unsung Hero
Roynetta "Netta" Jackson
NURSE AT BUFORD MIDDLE SCHOOL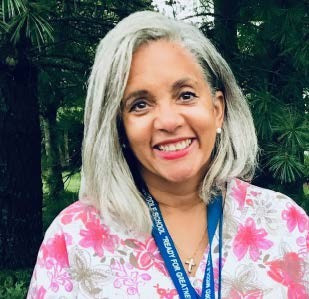 Nurse Jackson, school nurse at Buford Middle School for the past 32 years,
is an exemplar in the field of school nursing. Every day, she arrives at school
ready to serve children with an open, kind, and loving heart. Her years of
experience are an asset to the school, providing a deep well of knowledge
and excellent clinical care; she also offers a calm, steady hand in stressful
situations. Whether she is administering medications or attending to a
student in an emergency, she meets children with a smile and provides
compassionate care. It is a daily occurrence for Nurse Jackson to go above and
beyond. Her standard is the highest standard of patient care.

Over and over, she provides safe and sound nursing care with a large dose of
comfort and calm. When necessary, she doesn't hesitate to contact homes and
physicians. Students whose first language is not English are assured that they
will be understood when they need care, because Nurse Jackson arranges for
translation services.

The criteria for the Tinsley Unsung Hero award are simply descriptive
characteristics of Netta Jackson. She leads her clinic and the school's medical
management team efficiently and effectively, assuring students and staff of
emotional and physical safety while at school. Staff and students recognize
Nurse Jackson's courage as she charges into intense situations calmly and
with confidence. Her sense of humor is well known and smooths over many
a "bump" in the school day. She is a problem solver extraordinaire! Overall,
her caring, loving and kind demeanor is central to her work as a school nurse
and she is an inspiration to others. We celebrate 2019's Unsung Hero, Ms.
Roynetta Jackson!
Richard Walker
Crossing Guard, Buford Middle School
Dominique Williams
Intervention Associate, Charlottesville High School
Camille Allers
Instructional Assistant, Buford Middle School
Ottawa Anderson
Teacher's Aide, Charlottesville High School
Charlotte Nelson
Registrar and Secretary, Buford Middle School
Joyce Johnson
Instructional assistant, Buford Middle School
Ann Sandridge
Head Nurse, Charlottesville High School
Syreeta Davis
School Secretary, Buford Middle School
Angela Johnson
Teaching Assistant, Buford Middle School
Anne Martin
Lead Custodian, Buford Middle School